Who will 'Save The Children'? ~ PREJUDICE IS IGNORANCE ~
After reading the testimony of Deborah Longshaw, a Michael Jackson fan who tried
to associate her website dedicated to him with the charity 'Save The Children UK'
we have also decided to tell our experience with their Italian organisation. The two stories are very similar and while we recognize the fact that 'Save The Children' is entitled to refuse to associate their actions to the name of Michael Jackson, we believe it is right to let everyone know what really happened. We want to address this to everyone that learned from him and his wonderful example to take care of others, of people who need help, especially the children.
When we decided to set up our facebook group and website "Truth 4 MJ", we thought that our purpose, to spread the truth about Michael, could not have been fully accomplished if we had not linked it to the truest meaning of his life, which is to heal the world starting from the children. 'Save The Children' was our first choice because of the name of their organization that immediately reminds us Michael's mission. This is the reason why we
forwarded to them our request to publish their banner on our website and start our child sponsorship on behalf of the group, Truth 4 MJ. We wanted to have a dedicated page in which we would have explained how and why we made our choice and we would have invited those who wished to learn more to contact directly 'Save the Children', as you can see by our first email.
Dear Sirs,
I write you because I would like to have more information about child sponsorship through your organization. I'm one of the admin of a web community dedicated to Michael Jackson, an artist that spent his entire life helping children and that passed to us, his fans, the same values and priorities. We would like to sponsor a child on behalf of our group through your organization and we would be glad to promote this initiative on our website posting your banner. We would like to know what is the procedure to follow for our child sponsorship, if there is a different way of payment other than credit card or direct bank debit and we would like to know what do you think of the idea to promote child sponsorship on our website.
I am looking forward to hearing from you....
 The person in charge of child sponsorship for Italy initially stated that we had a wonderful idea and invited us to contact her by phone.
We did contact her, she assured us that the sponsorship would have been done on behalf of Truth 4 MJ. During the phone call we clarified some details concerning the promotion of their organization on our website. After receipt of the bank giro slip, we prepared the web page's layout submitted to their attention.
sorry for the late answer following our phone call at the end of December. Anyway, I just received the bank giro slip by post through which we could make our donation for the child sponsorship and it took me some time to structure a layout for our web site. We would like to promote your initiatives in the hope to help children, following the example given to us by the artist to which the website in dedicated.
I send you here attached the page in pdf format, so that you can see how it looks online, and in word format.
I am looking forward to hearing from you....
The person in charge sent us a second email in which she restated that we had a terrific idea, BUT Save The Children preferred to publish only their banner in the home page.
4
Sorry for the late answer. Your idea to promote our initiatives in your web site is terrific, but we prefer that you publish only the banner with a direct link to our website. You can find the banner you like the most at the following page ……
We stay at your disposal for further clarifications ….
At this point we proposed them to change our page. We just wanted to have a space in the website in which we could have been able to share with our members the motivations that led us reach the decision for child sponsorship, to let them know that this sensibility towards children was the result of the love Michael felt for children.
We sent the modified web page to this person working for the STC organization and the day after, they called us by phone and invited us to REMOVE also the Save The Children banner from our home page. Both in the email and phone conversation received until then, they never gave us any explanation of their "preference", in the first case, and of their request to remove the banner from our website. At the phone they only said that this was an Executive Board decision of their organization.
Of course we knew why the Board had taken this decision and with great sadness we all came to the conclusion that it must have been what Deborah can attest with the letter received from Save The Children UK: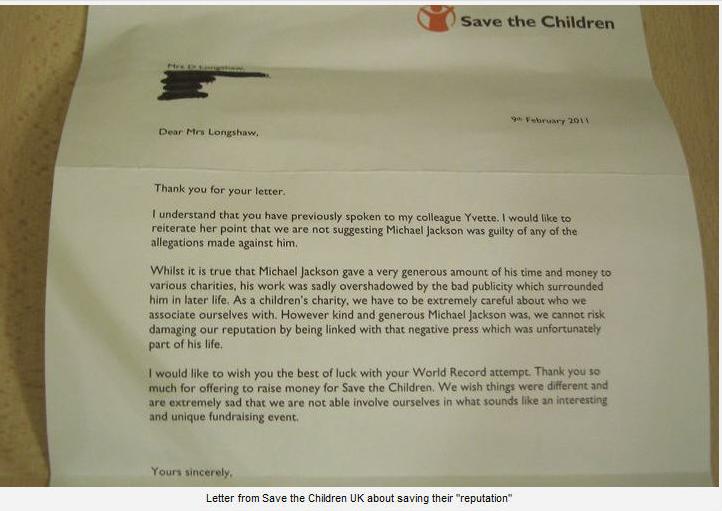 We think that in our case Save The Children Italy was just more cautious in not telling us explicitly why they no longer wanted to associate our website to their organization. However we felt that was our duty to let others know our experience with them.
We want to know how it is possible that we often see their banner when we watch Michael Jackson videos on youtube but they won't allow us to associate their name to a website that wants to promote also his philanthropy.
So they don't want ties with Michael Jackson's name because of his later bad publicity?
We thought that an association named 'Save The Children' should think about CHILDREN first. That's why our Michael Jackson website wanted to collaborate actively with them, but they are refusing active help from Michael Jackson's fans only because they don't want bad publicity?
Michael Jackson always had and still have a huge and active fanbase all over the world, so since this is their position, maybe they're not interested in "saving the children", since there is a refusal of help only because of names tie, it's not a matter of saving the children. They should think about children first of all.
Of course we can find other charities but the question is: WHY they don't want our help? They say they need help but they don't want it from us?
If they take the luxe of a refusal of huge money from millions of people, well, we want to know why they are not thinking about their main project but about publicity.
Michael Jackson was acquitted on all ten counts in a court of law.
~"If I am guilty of anything it is of giving all that I have to give to help children all over the world. It is of loving children of all ages and races, it is of gaining sheer joy from seeing children with their innocent and smiling faces. It is enjoying through them the childhood that I missed myself. If I am guilty of anything, it is of believing what God said about children: 'Suffer little children to come unto me and forbid them not, for such is the kingdom of heaven' In no way do I think that I am God, but I do try to be Godlike in my heart."~ Michael Jackson
~"Until I became the victim of false allegations, and the willingness of others to believe and exploit the worst BEFORE THEY HAVE A CHANCE TO HEAR THE TRUTH. Not only am I presumed to be innocent, I AM INNOCENT!"~ Michael Jackson