THE RECOVERY PLAN - PART 2
In this article we analyze the facts, testimonies, and documents that came to light shortly before and during Dr. Conrad Murray's trial (the doctor found guilty in the death of Michael Jackson), which confirm and nurture suspicions expressed previously regarding the involvement of other people in the murder of the singer. Had the investigation been conducted differently, they would support an indictment for a crime far more serious than involuntary manslaughter. The investigation was, in fact, directed only towards Dr. Murray. As a result, the prosecution did not make an effort to identify other guilty parties, the existence of whom would have made this a far more serious crime as it would imply the existence of accessories and, therefore, a greater degree of culpability in the murder committed by the doctor, who alone had no motive to kill the pop star intentionally. The agreed upon fee for Dr. Murray's services came to $150,000/month. Why would Dr. Murray have killed of his own volition the very man that would pay him a salary which takes most people years to earn, and who would have guaranteed a similar income in the future? And yet, in his judgment on the case, sentencing the doctor with the maximum penalty, Judge Pastor stressed the intentionality of the doctor's behavior which was repeated over the course of about two months. "Michael Jackson is not dead due to an isolated episode or incident... not because of any error or chance circumstance" but due to a premeditated action. Would this deliberate deception meet the needs of others who, unlike Murray, did not receive compensation for services provided to Michael Jackson, but was it rather to him that they had to render one, provided that the pop star would guarantee the recovery of their investment?

It's sadly ironic that it was actually Dr. Murray's defense that tried to prove the involvement of other factors and other people in Michael Jackson's death. But for what reasons was the investigation directed exclusively at the doctor? Perhaps because more extensive investigations would have required more resources, more work, more time, and more money. Perhaps because the office of the District Attorney of Los Angeles County chose to go with the option which was less risky and more likely to result in a conviction, despite the fact that the circumstances imply a more serious crime. Or perhaps the answer lies in the following tables, which have to do with the financing of Attorney Steve Cooley's election campaign in 2009, in which the Anschutz Entertainment Group (better known by the acronym AEG), the very group responsible for promoting Michael Jackson's London concerts, appears among the lenders:
http://cal-access.sos.ca.gov/Campaign/Committees/Detail.aspx?id=1323795&session=2009&view=received&psort=NAME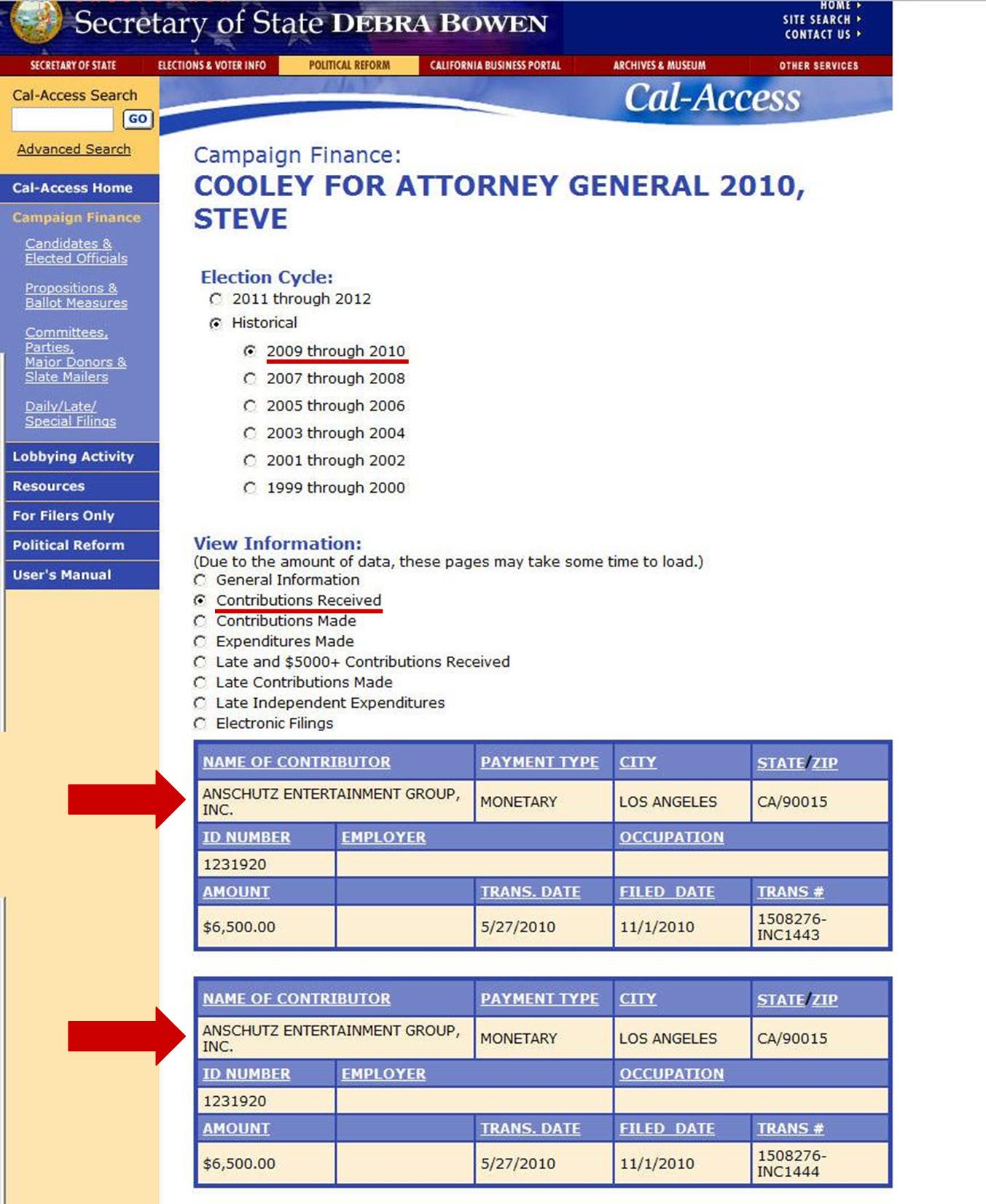 It is important to note about a rumor that circulated in Los Angeles, that deputy prosecutor, David Walgren, wanted to charge the doctor with second-degree murder, but Cooley would not allow it. We don't know exactly how much truth there is to this, but it is certain that even just a week after the trial started (having been postponed repeatedly throughout 2010-2011) a California law was put into place whereby those convicted of non-violent crimes, including manslaughter, would no longer carry out their sentences in state prisons, but in county jails. This, in fact, cuts sentencing times in half and encourages alternatives such as house arrest due to the fact that county jails, collectively, do not have enough space to house inmates that would formerly have been kept in state prisons. The new law was promoted by the newly elected governor, Jerry Brown, as stated in the following article:http://www.beyondthemargin.net/2011/09/nfl-football-in-los-angeles.html
Around the same time he signed into law a proposal which cleared the way for AEG (including it's subsidiary, AEG Live) to construct a new football stadium. The fact is that the Anschutz Entertainment Group has become a sort of "tail-that-wags-the-dog of the city of Los Angeles": http://articles.latimes.com/2010/feb/07/local/la-me-leiweke7-2010feb07
One must keep in mind that Michael Jackson's death was not immediately classified as "murder" (as confirmed by the LA County coroner's investigator, Elissa Fleak), and therefore the crime scene was not sealed off by the LAPD. This may have caused tainted evidence. Regarding extra costs, during the preliminary hearings Judge Pastor spoke of the financial deficit, to which the California judicial system contributes, and it is possible that this affected certain decisions made by him. For example, on July 20th, 2011 he took note of some rarely seen footage from This Is It (from the June 23rd-24th, 2009 rehearsals), and continued to view further footage in order to decide whether or not to accept a request by the defense to show some of this footage in court as evidence of Michael Jackson's poor health. However, the next day he was presented with a motion filed by Sony Pictures negating the request and preventing him from being able to watch further footage. At a hearing on July 25th, 2011, the office of Major Bostwick argued that if the material were to be introduced as evidence in the trial, it would involve risks to Sony's commercial interests, given that there were many things which they would have liked to get their hands on. Sony could potentially have claimed the right to monetary compensation and, considering the California Court's financial difficulties, the judge didn't care to take that risk, thus believing it was a waste of time to continue with the motion. Subsequently, the motion for annulment was granted. Before Bostwick left the courtroom, the defense attorney Gourjian asked the judge, in light of his decision, to require Sony to provide the materials formerly requested by the prosecution and by the defense (or at any rate those which had already been viewed and which had been discussed during the hearing) under a protective court order. The defense's intention was to secure a sufficient and accurate report on appeal in the event that both parties wished to procure such an ordinance. The judge, however, replied that he did not wish to have those materials included in court documents due to the fact that they are kept in vault, requiring special security and special transportation which the Court of Las Angeles could not afford. Therefore, Judge Pastor decided to take extensive notes on the footage from the June 23rd-24th, 2009 rehearsals to be used as future reference if need be. Evidently he was more preoccupied with the California court's financial difficulties in the event that the motion was accepted, than he was with thoroughly examining the evidence in question. The first witness to take the stand in Dr. Murray's trial was Kenny Ortega, the director of This Is It. No one considered it important enough to point out to him that in the preliminary hearings he had lied about the number of cameras present at the rehearsals: claiming that the purpose of the cameras was simply to film the rehearsal process for Michael Jackson's private library and archives, he had declared that there were only two, but it soon came to be known that there were many more:
http://www.teammichaeljackson.com/tmj_327.htm
This leads one to question whether or not the footage was truly meant to be private, or if there had always been the idea of making a film... Why lie about it if there was nothing to hide? However this was just one of the many lies told by Ortega:
http://www.truth4mj.it/mj/index.php?option=com_content&view=article&id=292:first-preliminary-hearing-in-the-trial-the-people-vs-conrad-murrayfirst-preliminary-hearing-in-the-t&catid=41:people-vs-murray&Itemid=71
In this video from May 20th, 2009 http://www.youtube.com/watch?v=lMPN_U6A1_s&feature=youtu.be one sees Ortega with Randy Phillips, president of AEG Live. Both claim that everything was fine and that Michael Jackson was in perfect health and couldn't wait to get on stage and perform. Phillips tells of how the artist cried on the phone after learning that the concerts were sold-out. In hindsight one might imagine that he cried because he knew what awaited him...
While on the witness stand, however, Ortega claimed that towards the end of the rehearsal process, Michael Jackson had stopped attending rehearsals, and that on June 19th, 2009 he had not appeared well at all. Walgren, the prosecuting attorney, showed the jury an email by Ortega to Randy Phillips after that rehearsal in which it is clear that both were "tough" with the pop star who had "involved" the doctor, and that they "NOW OR NEVER" had to seriously consider the possibility that Michael Jackson might not be able to rise to the occasion due to both emotional and health problems. Ortega used the phrase "if we pull the plug" in the event that the artist fell short of their expectations, as though they had previously discussed this possibility, even though Phillips subsequently denied this during his testimony. But Ortega also said that on June 20th there was a meeting in Carolwood, the singer's residence, for the purpose of discussing his absence at rehearsals as well as his psychophysical state. During the defense's cross-examination, Ortega confirmed that there had probably been other similar meetings prior to this one, even if he himself was unaware of them (though in this case his testimony was contradicted by that of Paul Gongaware, co-CEO of AEG Live, who spoke of a meeting at Michael Jackson's home at the beginning of June, at which Ortega was present). The defense attorney, Chernoff, asked Ortega what he meant by the term "pull the plug" and the director replied, "My comments were based on meetings which had probably taken place before...", meetings at which Randy Phillips was present. Furthermore, Ortega spoke of an unspecified "program" of Dr. Murray that was supposed to help the artist resolve the problems mentioned above, and he denied having told makeup artist Karen Faye that he had "reprimanded" the star. As for the doctor's "program", during the fifth preliminary hearing, according to testimony of the pharmacist from whom Dr. Murray obtained the supply of propofol, it came to light that the doctor had also requested the preparation of ENERGIZING formulas which could help to WAKE UP, and for which NO PRESCRIPTION was necessary (given to him in ECA capsules: ephedrine-caffeine-aspirin), saying they were for himself. However the autopsy performed on Michael Jackson's body found traces of ephedrine: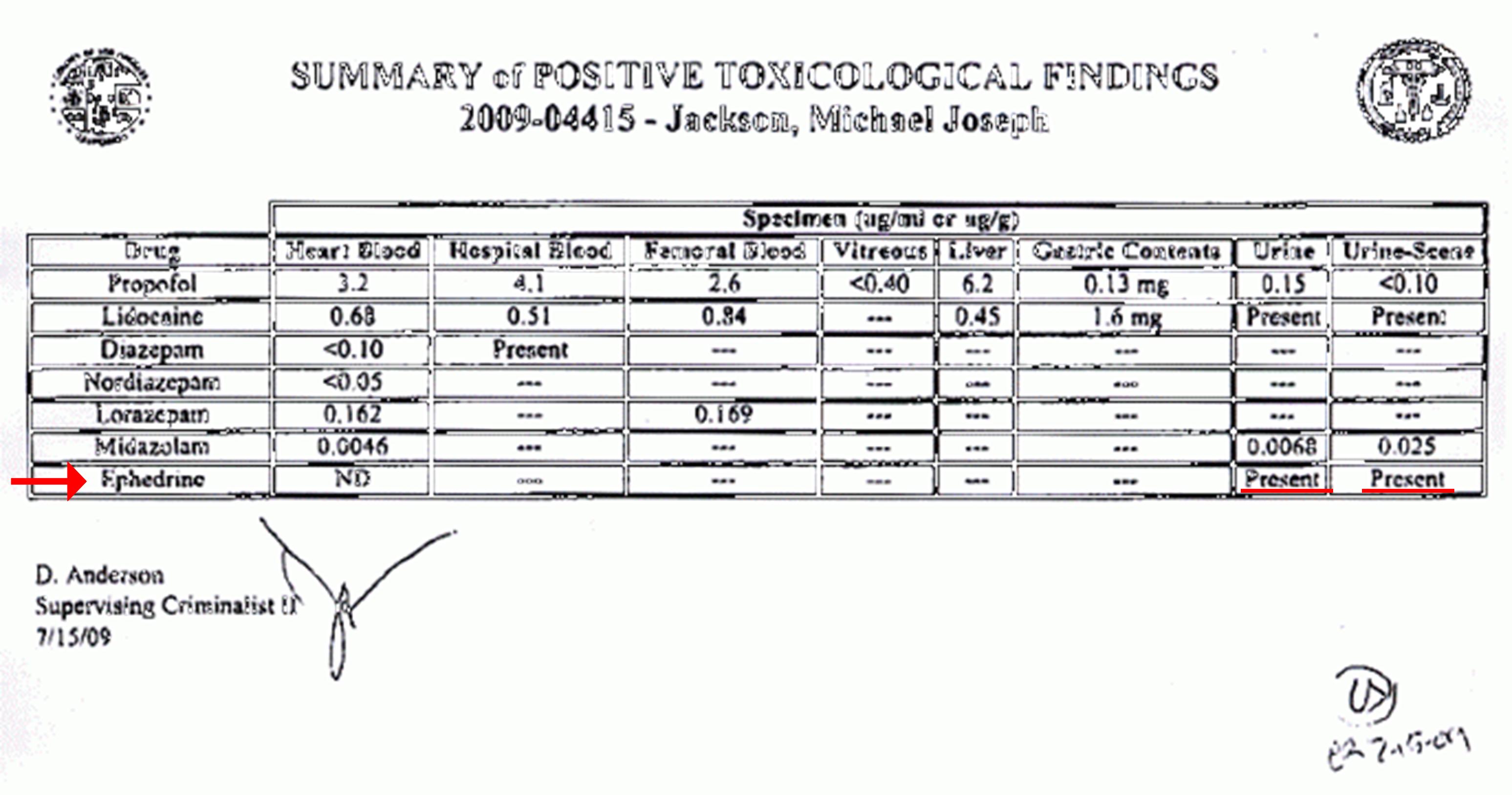 Given that he had been plagued for years by insomnia (one of ephedrine's side-effects), the very insomnia that Dr. Murray claimed he was "treating" with an anesthetic drug, it is highly unlikely that the pop star was KNOWINGLY taking this drug. It was Dr. Murray himself who, in an attempt to justify the administration of propofol to Michael Jackson, argued that the pop star had complained that if he were NOT able to sleep, he would not be able to complete the concert tour. Furthermore, a nurse, Mrs. Lee, testified that Michael Jackson enjoyed the beverage Red Bull, but upon learning that it contained caffeine and that this could contribute to his insomnia, he chose to stop drinking it. So, once again, it is difficult to imagine that he voluntarily took the ECA: http://www.ehow.com/about_5506395_side-effects-eca-stack.html Therefore, during the day he was given the "energizing" drugs too keep him awake, with their effects and side-effects (among which are insomnia, anorexia, anxiety, depression, etc...), and at night he was given anesthetic and benzodiazepine. This was the "program"? Please keep in mind that, according to the case records, none of the experts who testified called Michael Jackson a drug addict. Thus it would seem that he was intentionally drugged. A drugged person is certainly easier to control, and to whom would a submissive Michael Jackson be convenient if not to the concert promoters?
The relationship between Dr. Murray and AEG Live is also documented in a contract(mentioned during the trial) in which it is clear that the doctor was hired by AEG Live, who never received a copy of the contract signed by Michael Jackson for his approval, but only one signed by Dr. Murray the evening before the singer was killed. The contract also states that the doctor had to "tend to the medical needs of the artist, be able to treat him in case of emergency, and also provide other medical treatments as required by AEG."
http://muzikfactorytwo.blogspot.it/2011/07/aeg-conrad-murray-emails.html
http://muzikfactorytwo.blogspot.it/2011/07/conrad-murray-aeg-conract.html
Oddly, the presence of ephedrine in Michael Jackson's body at time of death, was not remotely discussed in court. Prosecuting Attorney Walgren merely showed that a package of ECA capsules was found at the pop star's home, but said nothing more. The only person to mention the possible side-effects of over-the-counter medicines containing caffeine was Dr. Kamangar, an expert in sleep medicine who testified for the prosecution, but made no specific reference to ECA capsules. During Mr. Suppal's testimony, a police surveillance expert in Los Angeles, it was brought to light that the only footage from the surveillance cameras at Michael Jackson's residence which he had been ordered to copy was that of the few minutes upon Dr. Murray's and Michael Jackson's arrival on the property the night of June 25th, 2009. Suppal claims that it was Detective Martinez who made the decision to copy only that footage. This is inconsistent with what Prosecuting Attorney Walgren said during the March 16th, 2011 status conference, in which he stated that the prosecution was still trying to contact the LAPD and the security company in order to find out if other footage was available. All of the recorded images were of the exterior of the house and its entrances/exits. Samantha de Gosson, one of Michael Jackson's fans who appears in the footage from the surveillance cameras shown in court of the star's arrival at Carolwood the night before his death, believes that these images were tampered with: "We counted between 12 and 13 guards, all more or less dressed the same and aggressive. This (for interesting reasons), were cut out of the security footage during the trial, not to mention hours before and after were deleted by LAPD. The security footage however shows us there but fails to show what really happened": http://www.facebook.com/groups/112835465428699/#!/samantha.degosson/posts/10150966124598961 Furthermore, no footage of the interior of the house has ever been released. Michael Jackson's family expressed concern over the matter, suspecting that this footage has been erased.
Michael's sister, LaToya Jackson, while at an event organized shortly after Dr. Murray's conviction, said that she was under the impression that Randy Phillips was also present in Michael's house at the time of his death. She further mentioned that in the past she had found post-it notes stuck to the singer's bathroom mirror on which were written disturbing phrases such as, "I hate John Branca."; "John Branca has stolen a lot of money from me and has doubled and tripled his fees."; "I hate Tohme Tohme."; "Randy Phillips and Tohme Tohme won't travel with me."; "NO NO NO Never!"; "I agreed to do only 10 shows."; "Tell Tohme Tohme to give me back my cars."; "AEG is pressuring me to undergo a physical exam with Dr. Slavit." (To refresh your memory on Slavit and Branca please refer to "The Recovery Plan – Part 1" and related comments: http://www.truth4mj.it/mj/index.php?option=com_content&view=article&id=99:il-piano-di-recupero&catid=34:articoli-verita-sulla-morte&Itemid=61
Also regarding Branca: http://www.facebook.com/notes/laura-rossi/john-branca-whos-this-man/397926046936433
(From: http://www.truth4mj.it/mj/index.php?option=com_content&view=article&id=145:john-brancachi-e-costui&catid=34:articoli-verita-sulla-morte&Itemid=61).
On the witness stand, Detective Smith mentioned that there were some notes found on the mirror, but no one asked him of what nature.
The Nation of Islam seems to have also played a part in this tragedy. http://en.wikipedia.org/wiki/Nation_of_Islam
Nearly all of the staff and security personnel at Carolwood were part of this organization, a fact confirmed during the preliminary hearing by Michael Amir Williams, Michael Jackson's personal assistant, and himself a member of the NOI. Tohme Tohme may also have ties, though he has always denied it and asserts that he actually dismissed, rather than favored, staff affiliated with the NOI. Yet the details of a probable auction of Michael Jackson memorabilia only three months before his death seem to contradict this:http://www.foxnews.com/story/0,2933,510258,00.html .
It appears that even Dr. Murray was somehow linked to the NOI, unless it's just a coincidence that certain of the pop star's fans happened to hear the doctor speaking Arabic. Samantha de Gosson claims that on May 29th, 2009 the artist complained to her and to other fans that he had NEVER agreed to the outrageous number of 50 concerts, but only to 10. Unfortunately a hint of this outburst was leaked to the press and a couple of days later AEG Live denied everything. http://www.nme.com/news/michael-jackson/45043.
Following AEG's denial there was a marked effort on the part of the NOI's security personnel to keep fans away from the singer. Suddenly there were up to 12-13 guards surrounding him instead of only two or three. Later Amir Williams lied to the fans who were close to Michael at the time when, on June 24th, 2009, concerned about his health, they tried to contact him. Amir wouldn't allow it, despite the fact that Michael always wanted to hear what his fans had to say. Amir suggested that they try to contact him at another time on his cellular phone (the fans closest to him had his personal phone number), but none of their attempts were successful. Amir then explained to them that this was due to poor cell phone reception in the Staples Center and that Michael had asked him to remind him to call the next morning. However, when the fans went to the Staples Center for the Michael Jackson Memorial service, they tested every area and found that there was actually no problem with the cell phone reception within the building. The following link has Samantha de Gosson's complete testimony: http://www.facebook.com/note.php?note_id=10150137469043798
De Gosson affirms that Amir lied even on the witness stand, when she claimed that in the evening of June 24th, 2009 he was seated in the passenger seat of the Escalade that brought Michael Jackson to the Staples Center for rehearsal: "All went more or less to the plan, with a few odd things that night that still can't be explained... one being the fact that Michael wanted to hear a spoken statement as letters were being handed over and Michael Amir refused to let Michael hear it but promised a statement on the phone instead due to late arrival at rehearsal, a lie, and even Michael Amir's testimony on the stand was a lie when he said he sat in the passenger front seat of the Escalade when the truth is he sat in the back seat with Michael anticipating our intervention, snitched by another fan we already knew was bad news and whom we called Judas. Michael Amir NEVER sat with Michael in the back seat until that night! He lied under oath.": http://www.facebook.com/groups/112835465428699/#!/samantha.degosson/posts/10150966124598961
Now let's review Michael Jackson's contract with AEG Live. The contract seems to have been drafted with the sole purpose of financially destroying the pop star and even his signature appears to be forged. The contents of the document bring to mind the criminal actions of those businessmen who first grant a loan to a store owner who wishes to invest in his business, and then burn down his store so that he must spend all of his money to rebuild it. When he is then unable to repay his debt they seize his house, which he had used as collateral for the loan. The following link provides a complete analysis of the contract :http://vindicatemj.wordpress.com/2011/09/14/aeg-live-entertainment-and-dr-tohme-tohme-in-a-game-against-michael-jackson-fraud-lies-and-devilish-intentions/
Due to the fraudulent nature of this so-called "contract", AEG may have had problems in implementing the provisions therein stipulated, and may have thought to increase their revenue by alternate means. Thus, after seeing how high the demand for tickets to see the greatest pop star in the world was, they increased the number of concerts on the tour.
To this end, the testimony of Paul Gongaware proved to be extremely interesting. When asked WHO had signed the contract for the 31 concerts at the O2 Arena in London, he replied as follows: [video has been removed by user] https://www.youtube.com/watch?v=kGMCGx_vnD4
Brazil: How many events were planned?
Gongaware: We contracted for 31.
Brazil: When you say "we", who are you referring to?
Gongaware: To AEG Live.
Brazil: And to who else?
Gongaware remains silent.
Brazil: To Mr. Jackson?
Embarrassed Gongaware replies: Oh, yes... Mr. Jackson, yes.
Listening to these statements, it truly seems that the number of concerts stipulated in the contract had been decided exclusively by AEG. Obviously he claimed that Michael Jackson was also in agreement for the 50 dates. The fact is that there is no contract which speaks of 50 concerts.
The defense tried to confront Gongaware with the issue of the civil suit that the Jackson family filed against AEG, but the attempt failed due to objections from the prosecution that the purpose of the trial was to prove the guilt of the accused.
Let's move on to Randy Phillip's testimony. The president of AEG Live began by saying that in 2007 he was contacted by Peter Lopez, Michael Jackson's lawyer at the time (Lopez died 10 months after Michael Jackson in an "apparent" suicide by gunshot), but at the time the artist didn't feel able to undertake a commitment to the concerts. Then, in 2008, he came into contact with Colony Capital, a company which had disclosed shares of Michael Jackson's Neverland Ranch, to discuss his comeback. What interest could Colony Capital have had in Michael Jackson concerts? Most likely they wanted to recover the money they had spent on the Neverland Ranch. So Phillips got in touch with Tohme Tohme, the pop star's "manager" at the time, a shady businessman whom Michael was afraid of:http://www.youtube.com/watch?v=KMmPeb_jWaI&feature=related
Phillips says that when he realized that the demand for tickets to the shows was far higher than expected, he did in fact think of increasing their number. He contacted Tohme and 20 minutes later received a phone call from Michael Jackson in which he said that he would be willing to do 50 shows on two conditions: he be provided with a home in the English countryside in which to live with his children, and that the Committee for the Guinness Book of World Records be present on his tour. It must be noted that prior to the trial Phillips repeatedly contradicted himself as to whom he had contacted regarding the increase in the number of concerts, giving various versions of what happened: http://www.youtube.com/watch?v=duAiiK0iCLg
During the March 28th, 2011 status conference, the defence argued that Tohme had been the one to negotiate the deal with AEG and that this had angered Mr. Jackson. Regarding the pop star's willingness to go on stage for so high a number of shows, it's important to remember the testimony of Dr. Metzger. During the trial Dr. Metzger testified that the singer was very concerned that his health would not hold up for 50 performances and that he feared he would not be able to see this commitment through to the end. Even this discrepancy was not given importance: the trial wasn't against Phillips or AEG, but against Dr. Murray. For this same reason Phillips was not permitted to speak in detail about the contract between AEG and Michael Jackson regarding This Is It or insurance contract.
During the testimony of Mr. Marx, the DEA's forensic computer expert who conducted the tests on Dr. Murray's iPhone, it came to light that AEG had had problems with the company hired to provide insurance coverage for the 50 concerts. Beginning his examination of the iPhone on June 20th, 2009. The following were found: a voice mail message from Frank Dileo, Michael Jackson's supposed "manager", expressing his "concern for the artist's health"; a recording made for unknown reasons by Dr. Murray of the singer's voice under the influence of drugs administered by him in that moment (this would have been useful at a later date to convince people that Michael Jackson was a drug addict and/or if he planned to blackmail him, as alleged by Prosecuting Attorney Walgren and Judge Pastor?); and several e-mails copied to Randy Phillips, Shawn Trell, Timm Woolley, and Paul Gongaware of AEG Live, John Silcock, managing director of the Robertson Taylor Insurance Company in London, and Bob Taylor, of the same company. These e-mails show that the insurance company was concerned about the rumors circulating regarding Michael Jackson's health and that they wanted him to undergo a second physical examination to insure all 50 shows. On June 24th, 2009, an email from Bob Taylor was received which states that the insurance company had been holding firm from the very beginning regarding the insurance coverage, which they would have granted for illnesses after the completion of a further medical visit and after observing Michael Jackson in rehearsals. A subsequent e-mail states that the company required that the visit be carried out on Harley Street in London.
So, as the situation was getting worse along with Michael Jackson's deteriorating health (he was rapidly losing weight in the last weeks of his life and had missed many rehearsals), the insurance company demanded an additional medical visit before agreeing to insure the full 50 shows for which AEG had already sold the tickets. HOW COULD AEG RESOLVE SUCH A SITUATION? IT WOULD APPEAR THAT MICHAEL JACKSON'S DEATH WAS TRULY A GODSEND TO THEM, ALSO CONSIDERING THE HANDSOME PROFITS THAT FOLLOWED. DOES THIS NOT LEGITIMIZE SUSPICIONS OF THEIR INVOLVEMENT?
The following article (in Italian) explains the calculations AEG made regarding the recovery of the sums of money invested, repeating what Phillips had said to silence rumors having to do with potential losses resulting from Michael Jackson's death:
http://www.rockol.it/news-101838/Michael-Jackson,-il-promoter-AEG-convinto-di-poter-recuperare-linvestimento
In this article we learn that many fans did not ask for a refund of their tickets to This Is It, preferring instead another in exchange as a commemorative souvenir. The subsequent commercialization, in the form of CDs and DVDs, of the high definition audio and video recordings made at the Staples Center during rehearsals, which the article talks about, is of course now obvious. Sony purchased the rights to those recordings from AEG for $60 million, and created the docu-film "THIS IS IT", which was released in cinemas worldwide. AEG earned further income from the original soundtrack to the film: http://www.ilgiornale.it/interni/this_is_it_film_dedicato_tour_mancato_michael_jackson/musica-attualit-michael_jackson/11-08-2009/articolo-id=373542-page=0-comments=1 [in Italian]
and from the agreement with Bravado for the ill-fated tours merchandising:
http://www.bravado.com/news-story/news-michael_jackson/bravado-is-exclusive-merchandiser-for-michael-jackson
They even attempted to capitalize on the memorial, but had to give up due to protests:http://www.singersroom.com/content/2009-07-03/AEG-Live-Backtracks-Over-Michael-Jackson-Funeral-Tickets-Offers-Giveaway/ (**)
Immediately following Michael Jackson's death, the promoting company thought to collect the insurance from the concerts of the first leg of the tour, which included "death from drug overdose", but given that propofol is an anesthetic administered exclusively in a hospital setting, the Lloyd's insurance company refused to pay. In June 2011, Lloyd's filed suit with the Los Angeles Supreme Court against AEG Live and MJ Co LLC claiming that the company should not be held responsible for paying the $17.5 million policy. The claim is based on the fact that AEG had not disclosed to the company that Michael Jackson was regularly administered propofol, nor that he frequently missed rehearsals and appeared with slurred speech at meetings after visiting the office of his dermatologist, Dr. Arnold Klein. Until the last day of life, Lloyd's executives repeatedly requested information regarding the singer's health from AEG Live, who in turn passed the requests on to Dr. Murray:http://www.wavenewspapers.com/entertainment/Judge-issues-favorable-ruling-for-insurers-of-Jacksons-comeback-tour-136754403.html
It must be noted that Dr. Murray sent a final reply to Bob Taylor on June 25th, 2009 at 11:17am in which he urged him not to believe the rumors regarding Michael Jackson's health. This was during the exact time in which the artist had already gone into hypotension and may already have been dead.
Now we examine the actions of the accused and the statements of several witnesses which give a sense of the premeditated nature of the murder. It must be noted that Dr. Murray repeatedly lied and contradicted himself regarding certain events. Some of these contradictions are specified in the following link: http://insession.blogs.cnn.com/2011/10/10/conrads-contradictions/
But aside from the lies, certain of his actions seem to have been truly intentional. Dr. Murray claimed that he was unable to lift the body of the singer off the bed by himself in order to perform proper CPR. But it is absurd to believe that someone of his size (over 6'6" tall) was unable to lift someone the size of Michael Jackson (just over 5'9" tall and weighing only 132 lbs). Elissa Fleak testified that in the room in which Michael Jackson died (which, remember, was NOT his bedroom) there was a fire in the fireplace even though it was June 25th in California. One wonders if Dr. Murray or someone else lit the fire so that rigor mortis would occur at a later time, in which case it is possible that Michael Jackson died much earlier than believed. In fact, the coroner was NOT able to determine the time of death. It must be mentioned that, reading between the lines, in some of the prosecutor's questions and in his opening and closing remarks, he seems to have wanted to imply something regarding the intentional nature of the murder. During the cross-examination of Dr. White, propofol expert and witness for the defense, Walgren led him to say that, given the amount of propofol and lorazepam found in the pop star's body, it doesn't make sense to believe that Dr. Murray would continue to sedate an already sedated Michael Jackson. The only explanation is if the doctor intentionally wanted to hurt him. Regarding Dr. White, one must remember that he says he was paid $11,000 to appear in court and $3,500 every time he testified, but stressed that he did not receive this money from the defense (who didn't have the means). No one, however, asked from whom it was that he received these payments.
Returning to the alleged intentional nature of the murder, the testimony of Dr. Shafer, propofol expert and witness for the prosecution, showed that based on studies carried out in 2002, the amount of propofol and benzodiazepine administered by Dr. Murray to Michael Jackson was far greater than even Dr. Shafer himself had initially thought. Accordingly, in his opening remarks Walgren argued that "...Dr. Murray wanted to knock out Michael Jackson, if we choose to believe that he was not already knocked out!" and the memorandum we read, "THE WAY IN WHICH THE CRIME WAS CARRIED OUT SHOWS PLANNING, SOPHISTICATION, AND PROFESSIONALISM... THE PROOF DEMONSTRATES BEYOND THE SHADOW OF A DOUBT THAT THE ACCUSED KNEW THAT WHAT HE WAS DOING WAS WRONG... THE ACCUSED TOOK ADVANTAGE OF HIS PATIENT'S TRUST IN ORDER TO COMMIT THE CRIME..."
A little too much to be considered involuntary manslaughter...
At the following link one can find the entire memorandum: http://www.scribd.com/doc/73621631/Prosecution-Memorandum
Considering that in California criminal intent is considered "implicit" when the negligence of a person is reckless, there is sufficient legal justification for classifying this case as second-degree murder. And after hearing all of the trial's testimonies, one becomes well aware that this is far more than a simply involuntary manslaughter. Keeping in mind that according to US law. premeditated murder, the result of criminal design, is classified as first degree murder, it is very likely that, had the investigation been conducted properly and gone in more directions, many people who appeared only as witnesses, would have appeared instead as defendants charged with the far more serious crime of first degree murder.
Addendum:
You can easily check all the information regarding Dr. Conrad Murray's trial highlighted in this article. You can watch videos of the hearings on YouTube and you can read the transcripts of the preliminary hearings at the following link:
http://www.lasuperiorcourt.org/courtnews/ui/HPDocumentList.aspx?title=Peo+v+Conrad+Murray&casenum=SA073164&date=2010-04-15+10%3A54%3A51
(**) Updates regarding the AEG's earnings following Michael's death:
https://www.aegtickets.com/default.aspx?c=OfferDetails&eid=2336
AEG's CEO Randy Phillips talks about the recovery of the company's investments in the following article (http://www.rockol.it/news-101838/Michael-Jackson,-il-promoter-AEG-convinto-di-poter-recuperare-linvestimento) stating that he wanted the shows to be performed in any case at the O2 Arena in London. It seems that he stood by what he said: http://www.legendarymichaeljackson.nl/?p=7556. Please, remember that the O2 is owned by AEG Live. Don't be taken in by the fact that the show was announced by Michael Jackson's Estate that is managed by John Branca.
Updates about Branca and MJ's will: http://www.facebook.com/notes/laura-rossi/the-jacksons-accuse-the-will-that-allows-john-branca-and-john-jonh-mcclain-to-ma/403054979756873
From: http://www.truth4mj.it/mj/index.php?option=com_content&view=article&id=254:il-piano-di-recupero-parte-seconda&catid=34:articoli-verita-sulla-morte&Itemid=61
Translated by: Jessica O., Domynick D., Barbara B.